Task
Add aliases to Quick Buttons in the Pythia app for Zendesk Support or Zendesk Chat.
Solution
Now you can add aliases to Quick Buttons to make them visually unique and easy to remember.
Go to Settings page clicking gear icon (⚙️) right to the search bar,
Click 'Add Quick Button' or 'Edit' to start editing new oк existing button,
Click on + sign right to the action type (or ) to edit alias,
Add any custom emoji or other symbols you like,
Click Apply and then Save () to finish the setup.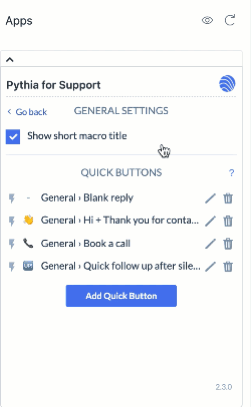 TIP
You can use any emoji as an alias. If on Windows 10, press Windows logo key + . (period) to bring up the emoji keyboard or use a browser extension like Emoji Keyboard to quickly find proper emoji for your Quick Button alias.